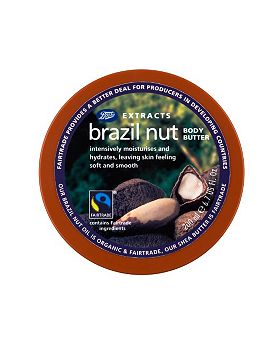 I have never been very good at getting into a moisturising routine, but at the moment I am trying to be good and look after my skin properly. I've tried all sorts of things: oils, lotions and butters and this is the best one by far.
At £7.95 (and often in 3 for 2 deals), Extracts Brazil Nut body butter is cheaper than the similar butters available from The Body Shop (although they do some lovely ones too… I'm currently eyeing up their Sweet Pea Duo.) I've also found the the butter itself is softer than the Body Shop's. It's a really nice consistency that melts quickly into skin and leaves it with a really lovely nutty perfume. The smell alone is amazing and long-lasting, but it's also had a great effect on my dry skin and eczema and it's my go-to after shaving my legs; it's also really good on dry feet.
Sometimes, I pair it with the accompanying body scrub, which is OK, but I find that I don't get as much exfoliating as I'd like, so I use exfoliating mitts just to give it a bit of 'oomph'. But again, the smell is gorgeous!
Another bonus is that the product has some serious fair trade credentials- both the brazil nut oil and shea butter are fair trade, so it's nice using something that isn't negatively impacting on the people who grow it.
*These reviews are my own views about products I have bought with my own money. I'm not sponsored in any way- so you know I must really like them!*